At Morgan Stanley's recent Australia Summit, Catherine Wood, CEO and CIO at ARK Investment Management, identified the major innovation platforms and technology breakthroughs that she believes present significant opportunities for long-term growth investors.
Why now?
Several technologies are simultaneously approaching critical inflection points in a way that is comparable to a century ago when the internal combustion engine, electrification and telephony transformed the world. Advances in artificial intelligence, DNA sequencing, robotics, energy storage, and blockchain technology promise to be similarly transformative.
ARK Investment Management believes the dramatic cost curve declines being experienced across these innovation platforms is unleashing demand across sectors and geographies and spurring even more innovation. The full potential of these technologies is only just beginning to be understood.
Estimated Impact of Technology Platforms on Economic Productivity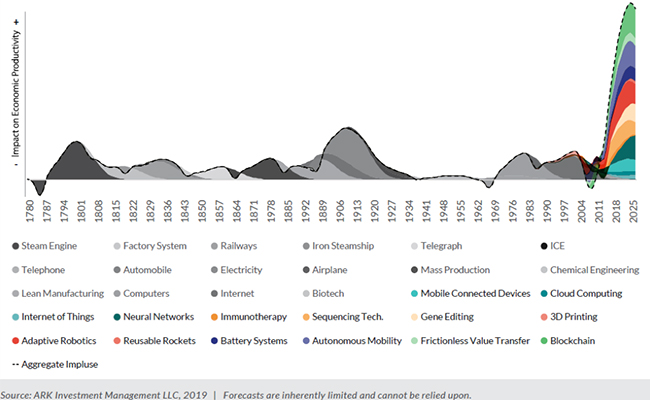 Blockchain technology
Cryptocurrencies built on blockchain technology have the potential to shift the course of monetary history and eliminate inefficiencies. In 2018, Bitcoin processed $1.3 trillion in transaction volume (this does not include trading volume) and is already approaching the transaction volume of the Visa network.
Battery cost
Batteries have entered a cycle where costs are falling and demand has been stimulated. This in turn, is pushing batteries further down the cost curve and providing a unique investment opportunity. Electric vehicles are likely to be the biggest beneficiaries with prices likely to fall significantly below internal combustion equivalents over the next five years.
Autonomous taxi networks
Fully autonomous vehicles look set to be commercially available before 2020, enabling the rise and rapid growth of autonomous taxi networks. These networks will significantly reduce the per kilometre cost of car travel which hasn't changed (on an inflation-adjusted basis) since the first mass-production models. This has the potential to create a multi-trillion dollar industry.
Next generation DNA sequencing
Since 2003 the cost to sequence a whole human genome has dropped from nearly $3 billion to less than $1,000. This has driven exponential growth in the number of genomes sequenced – there were as many genomes sequenced in 2018 as in every previous year combined. This growth is enabling huge advancements in medical treatment, with CRISPR being one of the most promising. By the end of this year, scientists should know whether CRISPR is able to cure paediatric blindness.
Collaborative robots
As industrial robots have declined in cost, demand growth has accelerated. However, high system engineering and programming costs have traditionally limited industrial robots to very specific applications. Collaborative robots are expanding the market by decreasing the programming costs and eliminating the safety barriers associated with traditional industrial robots, allowing them to penetrate new markets. Collaborative robots designed to work alongside humans have the potential to significantly boost labour productivity, job creation and wages.
For advice on how to capture the growth potential of these disruptive innovations, speak to your Morgan Stanley financial adviser.