Average major bank housing loan growth seems to have bottomed, but there may be little prospect of a meaningful rebound in 2020.
A solid end to the year for prices
House prices in Australia finished 2019 with the strongest half-year of growth for a decade. Over the year, Sydney recorded the strongest growth, followed by Melbourne and Brisbane, while Perth prices were flat. Prices are now 3.0% higher than they were a year ago, and 7.0% above the June trough.
Exhibit 1: House prices grew 1.2%M in December, leaving prices 3.0%Y higher over 2019 with the second half the strongest in a decade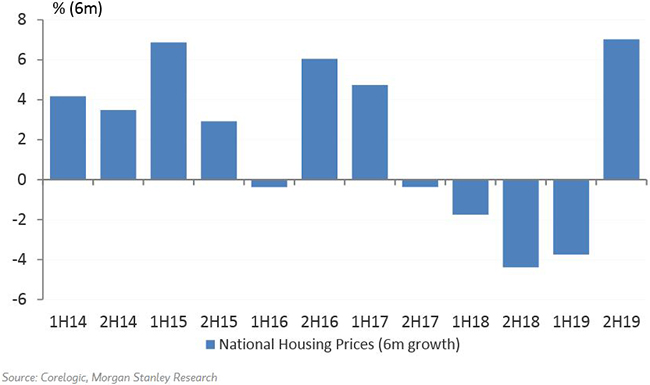 Exhibit 2: House prices grew the most in Sydney and Melbourne over 2019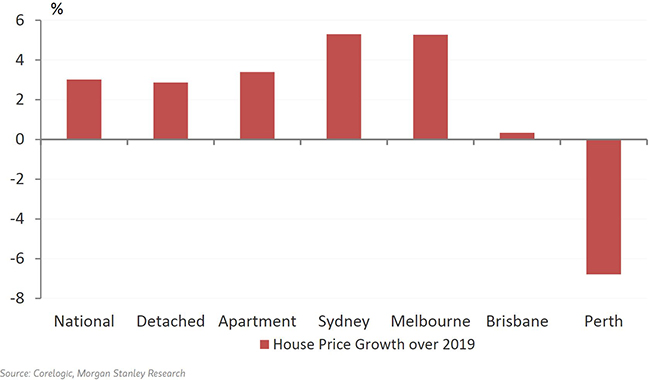 Credit growth still soft
While house prices finished strong, the latest Reserve Bank of Australia (RBA) data highlighted that housing credit growth remains subdued, growing less than 3% in November 2019. There are signs of a mortgage rebound emerging, such as an increase in auction volumes and clearance rates, and stabilisation in house prices, but there could be a long wait ahead.
Loan approvals picked up in the past few months, though this has largely been owner-occupier driven. Investor loan approvals are important to the housing cycle, and Australia would need to see a more pronounced pickup in this lending for house prices to sustainably grow.
Exhibit 3: Composition of Australian Housing Loan Growth (year-on-year): Owner Occupier Loans vs Investment Property Loans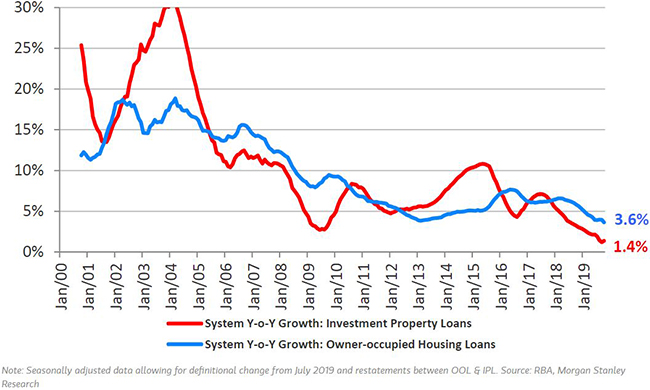 What is weighing down mortgage growth in Australia?
In Morgan Stanley Research's view, the recovery of major banks' mortgage growth is taking longer due to:
Customers paying down loans faster by not reducing repayments, despite lower interest rates
High household leverage and limits on lending at high debt-to-income levels
ASIC's new responsible lending guide increasing scrutiny of expenses
Loan to value ratio (LVR) constraints and more conservative valuations
Ongoing switching from interest-only loans to principal and interest, which typically lifts borrowers' repayments by 40-50%
The extension of comprehensive credit reporting to mortgages in September 2019
Exhibit 4: Total Australian Housing Loan Growth (year-on-year): RBA seasonally adjusted data that also allows for the definitional change from July 2019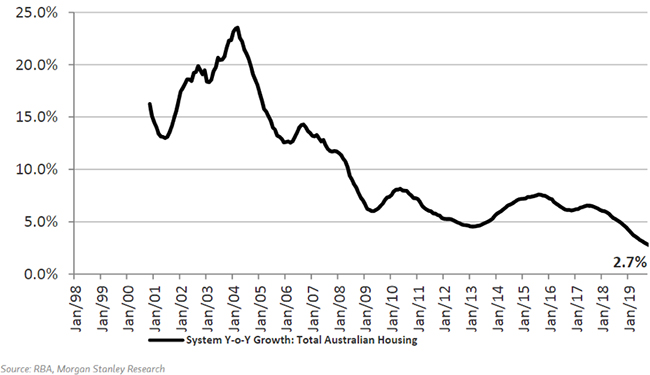 What can we expect in 2020?
Price performance unlikely to repeat in short term – The series of interest rate cuts from the RBA in 2019 have helped house price performance over the past six months. With another rate cut predicted in the short-term, it may provide some support for prices, but due to a softer labour market performance, higher turnover volumes and credit availability, we may see a more moderate increase.


Challenges ahead for Australian banks – The major banks in Australia are facing challenges given a tough operating outlook, low interest rates, uncertain regulatory environment, higher compliance requirements and growing thread of disruption. Morgan Stanley Research predicts that tighter lending standards from banks will ultimately limit the rebound in housing loan growth.
For more on the mortgage market in Australia, or a copy of our full report, speak to your Morgan Stanley financial adviser or representative. Plus, more Ideas from Morgan Stanley's thought leaders.