Weakness in the Australian housing market is expected to persist in the near-term, as demand weighs.
House prices in Australia fell again in June, and building approvals also fell sharply. Morgan Stanley Research expects weakness to persist in the near-term, as demand weighs. Over the next few months the details around tapering of policy support will be critical to housing sentiment and outlook.
Prices decline further
National house prices fell 0.8% month over month in June, but still remain 8.9% above where they were a year ago. Detached houses fell by more than apartments in the month. All major cities recorded price declines, with Melbourne and Perth leading the way while Sydney and Brisbane also saw a faster rate of price declines.
House prices fell for the second consecutive month in June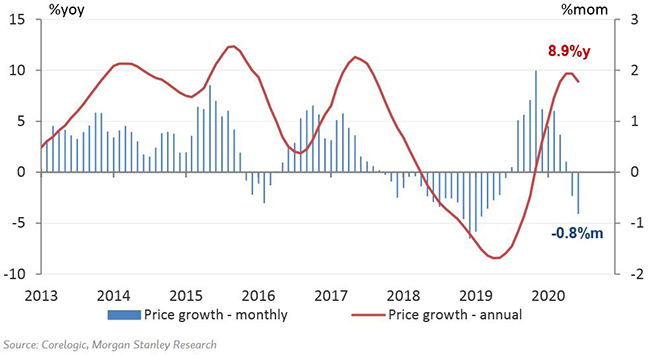 Building approvals down sharply in May
Building approvals fell sharply in May, down 16.4% month over month, its steepest decline in the last two and a half years, leaving annual growth at -11.6% year on year. The decline was driven by apartments, with detached approvals down slightly, both driven by the lagged impact of initial COVID-19 shutdown measures. Construction pipeline and approvals are likely to see continued weakness in the near term, as lingering economic uncertainty pushes back investment decisions. However, this could be somewhat offset by the announced Homebuilder stimulus from the Federal Government over the back half of the year.
Building approvals for May also fell sharply, driven by apartments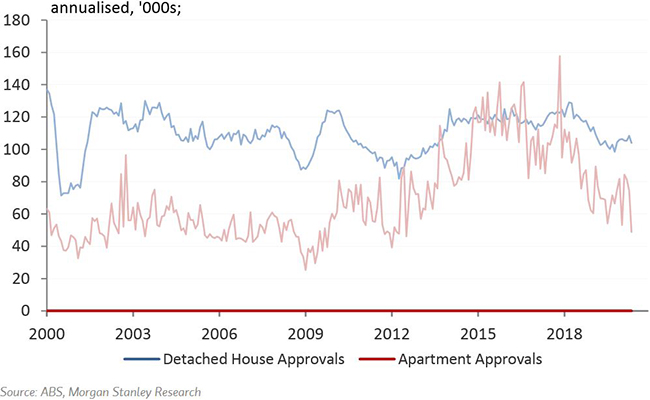 Expect near-term demand driven weakness
Despite the increased policy support, Morgan Stanley Research expects prices will continue to retrace their post-election gains in the near term, with the rental market more significantly impacted. Turnover has begun to recover but it is not clear that demand will keep pace, with clearance rates remaining soft. The rate of economic recovery is vital for the housing market and Morgan Stanley's expectation of an unemployment rate higher than 8% by the end of the year suggests some softness is likely to continue.
Moving into a critical period
Alongside the economic recovery, information on policy support over the next few months will be very important to the housing outlook. This includes details on how crisis support measures (including Jobkeeper, Jobseeker, and the banks' payment holidays) plan to be rolled off and tapered in September, whether any more housing specific support measures are announced by State or Federal Governments, and over the medium term, what the plan is for migration growth. Morgan Stanley Research expects policy support to be tapered but not removed and further housing support to be provided by governments, which should limit the extent of price declines.
For more on the Australian housing market, or a copy of our full report, "The House View – Heading Into Policy Pivots" (1 July, 2020) speak to your Morgan Stanley financial adviser or representative. Plus, more Ideas from Morgan Stanley's thought leaders.