Responsible Investing (RI) continues to grow and is becoming mainstream. It would come as no surprise if it became just another form of 'regular' investing in a few years.
Responsible investing is investing made with the intention to generate a measurable, positive social and/or environmental impact alongside a financial return.
According to a recent report from Morgan Stanley's Institute for Sustainable Investing, more than 8 in 10 US individual investors (and 9 in 10 millennial investors) now express interest in responsible investing. This corresponds with the finance sector responding with investment options that are designed to achieve a resilient and sustainable society, environment and economy.
RI funds outperform mainstream funds
An area where responsible investing continues to surprise is its ability to deliver impressive returns. It's a common misconception that targeting ethical or sustainable outcomes comes at a cost in terms of performance but significant historical data shows that not to be the case.
The Responsible Investment Association Australasia (RIAA) recently published its latest annual benchmark report, which details the size, growth, composition and performance of the Australian RI market and compares these results with the broader Australian financial market.
The 2018 performance results showed that RI investors continue to experience market returns.
Pleasingly, this year the average responsible investing fund outperformed the average conventional fund in three separate categories: Australian share fund, international share fund and multi-sector growth fund. In these three categories, responsible investing outperformed on a 1, 3, 5 and 10-year basis.
Performance of Responsible Investment and Mainstream Funds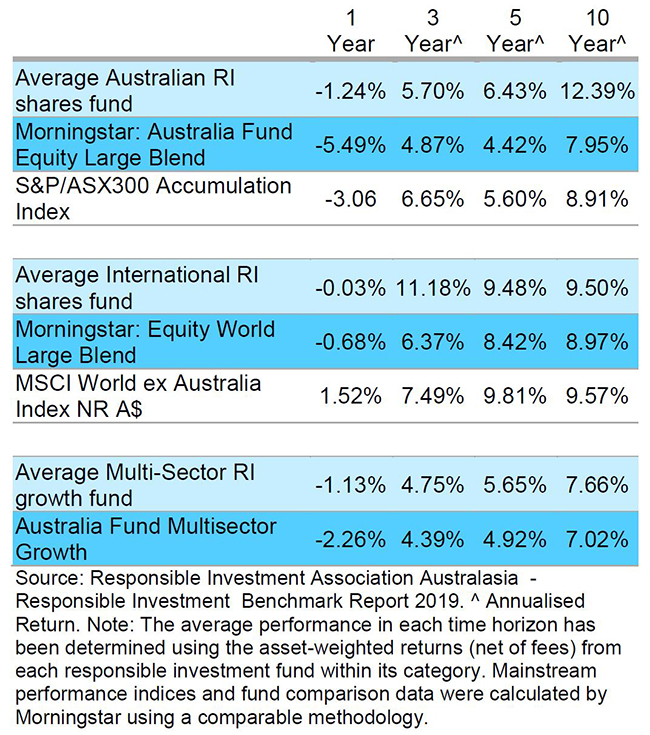 The RI market continues to grow
According to the Australian Bureau of Statistics, professionally managed assets in Australia totalled $2.24 trillion at 31 December 2018. RIAA estimates RI makes up $980 billion, or 44% of this total.
RI can either be classified as 'Core' or 'Broad'. 'Core' RI applies a screening, sustainability-themed or impact investment approach, and 'Broad' RI involves investing under a strategy that integrates ESG factors.
In 2018, 'Core' RI strategies grew $112.4 billion to $299.1 billion, which represents approximately 13% of the total professionally managed investment market in Australia.
Core Responsible Investments in Australia 2006 to 2018 ($ Billion)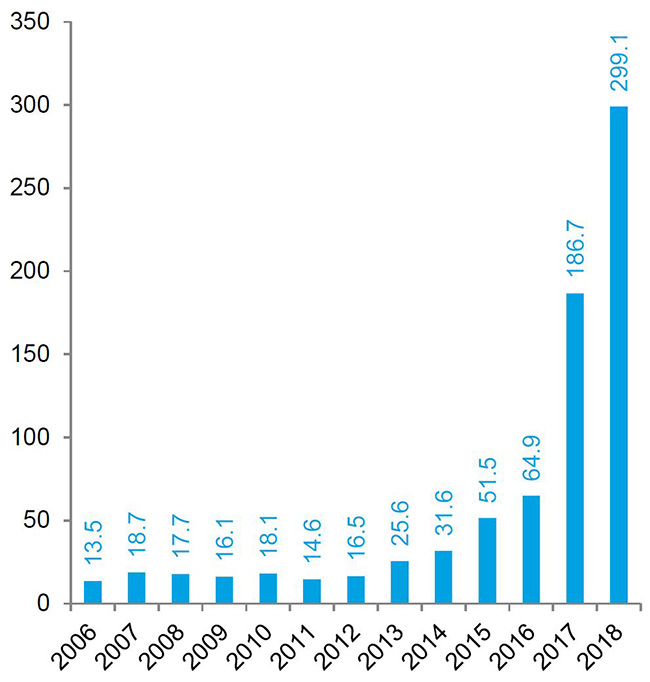 Morgan Stanley's 'Investing with Impact'
Launched in 2012 as part of Morgan Stanley's global commitment to sustainable investing, Investing with Impact uses a diverse range of approaches to generate market-rate financial returns while demonstrating positive environmental and/or social impact.
Whether it's integrating environmental awareness, promoting diversity or supporting local communities, your Morgan Stanley financial adviser can offer a range of tailored solutions based on your distinct financial and impact objectives. To find out more, speak to your Morgan Stanley financial adviser.
For more on responsible investing, or a copy of our full report, speak to your Morgan Stanley financial adviser or representative. Plus, more Ideas from Morgan Stanley's thought leaders.