Housing prices fell -0.7% in March 2019, to mark the 18th consecutive month of national price declines.
According to a recent Morgan Stanley report, a turnaround still looks some way off with non-price indicators pointing to a broadening of weakness.
Price declines continue
There was little in the way of good news in the latest set of house price data. National house prices fell -0.7% in March, which is down -8.2% for the year and -9.2% from their peak. Detached housing (-0.7% for the month, -8.9% for the year) and apartment prices (-0.7% for the month, -6.3% for the year) both fell by similar amounts in the month.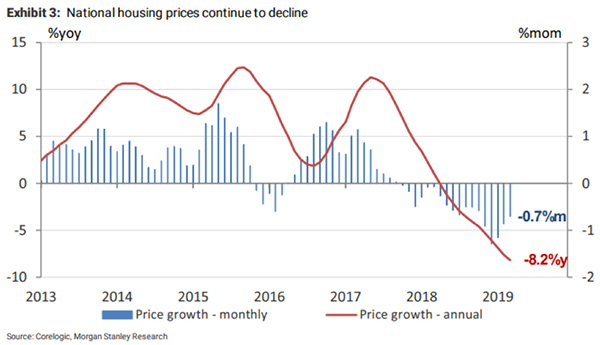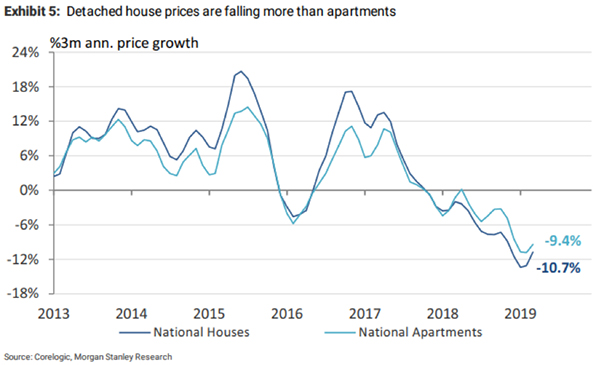 Prices continued to fall in Sydney (-0.9% for the month, -13.9% from peak) and Melbourne (-0.8% for the month, -10.3% from peak), while declines in Brisbane accelerated after a resilient 2018 (-0.6% for the month, -1.6% from peak).
Broad signs of weakness in the housing market
With national house prices having fallen for 18 months, Morgan Stanley's analysts are seeing signs of entrenched weakness in non-price housing indicators.
Despite a seasonal bounce to start the year, national auction clearance rates remain anchored around 50% and well below levels from the same time last year. Days on market and vendor discounting are both increasing – especially for Sydney where the rate of discounting (6.1%) is reaching Perth levels (6.5%). Rental conditions remain subdued with median rents staying effectively flat.

Outlook for the remainder of 2019
Prices look like they are continuing their grind down and we see little prospect of conditions improving over 2019.
Morgan Stanley's proprietary housing model points to a 10-15% peak-to-trough decline in national house prices (~20% in real terms). This suggests conditions in 2019 are likely to be similar to those experienced through 2018, although risks skew to the downside, especially given the sharp slowing in the domestic economy in Q4.

March is seasonally the strongest month for price growth, so it will be important to monitor whether price declines accelerate into April.

For more on housing or a copy of our report, speak to your Morgan Stanley financial adviser or representative. Plus, more Ideas from Morgan Stanley's thought leaders.